Naples Restaurants

If you're looking for Naples restaurants, you've found the right place. Naples has a variety of restaurants for you to pick from.

Well, whether you are in the mood for Japanese, Thai, Mexican, Italian, American, seafood, or Indian... Even if you're thinking Cuban, Greek, or just a family owned deli... Naples has got you covered!


Photo taken at Passage to India

This page is here to help you choose where to eat in Naples Florida. You can consider it a Naples Restaurants Guide.

Plus you can talk and read about each others' restaurant experiences right here. You'll learn more about that later...

Favorite Naples Restaurants

Sushi Thai
Sushi Thai has a few locations in the area. They specialize in Thai foods like sushi, pad thai (my favorite), ginger salads (another favorite), fried rice, and much more.

Passage to India
I just started liking food from India thanks to this place. Incredible flavors and spices.
First Watch
Always a great breakfast.
Istanbul
Turkish and Eastern European cuisine at the food court in our Coastland Center Mall. I love this place.

Waterfront
The Boathouse
Located right on Naples Bay and has a great reputation (good reviews!)

The Dock Restaurant
The Dock is right on the water in Crayton Cove, right by the City Dock.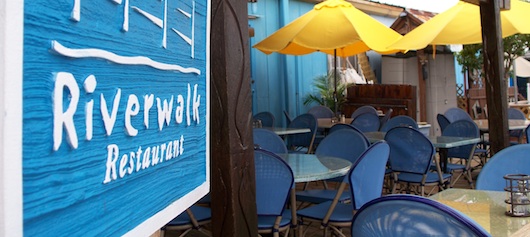 Riverwalk Restaurant
One of my parent's favorite places to go... Waterfront dining, Old Naples feel, and funky buildings.

Buzz's Lighthouse
A really neat waterfront restaurant right by Vanderbilt Beach. I like the Philly cheesesteak they make.

Beach View
Baleen at La Playa
Baleen is a high end beachfront restaurant you visit for breakfast, lunch, or dinner. Located at La Playa Beach & Golf Resort in Naples.

Turtle Club at Vanderbilt Beach Resort

Turtle Club Restaurant
Turtle Club is another beachfront restaurant in the Vanderbilt Beach area. This is a local (and tourist) favorite.

Breakfast
First Watch
Several locations in Naples open for breakfast, brunch and lunch. I love going here.

Chrissy Bianchi's
Awesome place for breakfast, brunch, or lunch (oh--and even dinner now too). Great daily specials, reasonable prices, and the best service.

Jane's Cafe
Natural and organic breakfast and lunch.
Einstein Brothers Bagels
Bagels, breakfast and lunch

Seafood and Island Style

Sea Salt
An interesting newer restaurant on Third Street South.
3rd Street Cafe
Inexpensive cafe on third street that serves you pizza, sandwiches, grouper, grilled chicken, french fries, and more.

Captain Kirk's Fresh Seafood Market
Across from Cambier Park in downtown Naples.

Yabba Island Grill
On Fifth Avenue South.

Naples Exclusives
Ridgway Bar & Grill
Classic American Cuisine with Bar right off of Third Street South. Couple of blocks from the sandy beaches.
Tony's Off Third
A wine and pastry shop off of third street south. You can also have a great value breakfast and lunch here.
McCabe's Irish Pub and Grill
Enjoy the Irish traditions with live entertainment, seafood, angus beef and pints of the finest ale
The Parrot Bar and Grill
Near Tin City and the Naples Trolley Center

Fifth Avenue Deli
Used to be known as Trixies -- now it's a New York style deli.
Handsome Harry's
Third Street Bistro with live music

Old Naples Pub
in the downtown area within walking distance to the fishing pier and the beach, a favorite among Naples restaurants

Atlin's Cafe & Grill
Locally owned and located right on fifth avenue south in downtown Naples. Great for breakfast and lunch.
Naples Bakery and Cafe
Across the street from beautiful Cambier Park. Coffee and snacks.
Istanbul
Turkish / Easter European cuisine. In the food court, fast food price for awesome fresh made meals

Asian

Sushi Thai
My favorite thing to eat here is ginger salad and chicken pad thai. Mmmmm.

Mexican

Flaco's
A Mexican restaurant located on Tamiami Trail North across the street from Outback Steakhouse at Liberty Plaza.
Tijuana Flats
Great menu with a nice variety of choices like tacos, quesadillas, enchiladas, chimichangas, churros, and more.
Mr Tequila
Another Mexican bar and restaurant off of US 41. Great place!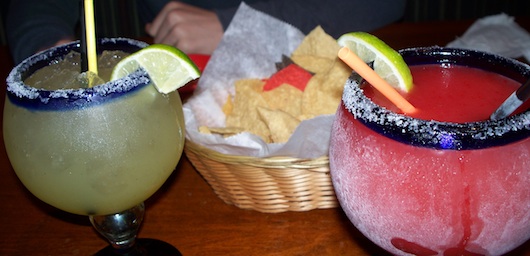 At Mr Tequila

Italian and Pizza

Island Pizza and Dogs
A new (and fun looking) pizza joint on fifth avenue in the downtown area.
Napoli on the Bay
Itlian Deli, pizza, and ice cream right by Naples Bay in Crayton Cove

Bice
Upscale and authentic Italian dining on fifth avenue south.

Campiello
Another upscale Italian restaurant, but this one is on third street south. You can enjoy live Jazz music here too.
Olive Garden
Italian chain restaurant. Great salad and breadsticks but you can find these all over the U.S.

French
Bamboo Cafe
French home cooking in old Naples near Crayton Cove
Bleu Providence
French restaurant with its own Wine cellar next door, located in Crayton Cove within old Naples

Coffee

Bad Ass Coffee
In downtown Naples on Third Street South.
Neighborhood Cafe
Locally-owned Cafe near Crayton Cove and the City Dock

Other Naples Restaurants

Kilwin's
The best chocolate and ice cream in downtown Naples
Brambles Tea Room
British/English lunch, tea and desserts in downtown off of Fifth Ave

Dairy Queen
Traditional Dairy Queen. Ice cream and fast food, yummy on the taste buds angry on the belly.
Subway on Fifth
Downtown Olde Naples area Subway Sandwhich shop.
The Cheesecake Factory
Right next to Coastland Center Mall in Naples. Of all Naples restaurants, I think this one has the biggest menu.

Calistoga Restaurant
Calistoga Bakery Cafe has two locations - one in Coastland Center Mall and the other in North Naples. Great sandwiches and breakfasts.
The Beach Store
This is a convenience store just a few steps away from Vanderbilt Beach.
Oakes Farms
Local grocery store with produce, meat, organics, seafood, plants and more.

Cooper's Farm Market
A small local grocery store with fruits, vegetables, double-yolk eggs and more in old Naples
Are we missing any of your favorite Naples restaurants?

You can add one of your own favorite restaurants right now, it's easy...

Add a Restaurant!
Don't see a particular restaurant on here? Add it yourself. It's fast and simple...
Restaurants Others Have Added
Click below to see contributions from other visitors to this page...