Istanbul

Kebab House in Naples Florida
What I like about Istanbul is that you get fresh food at a great value. For the price of fast food, you can have a healthy fresh meal that fills you up.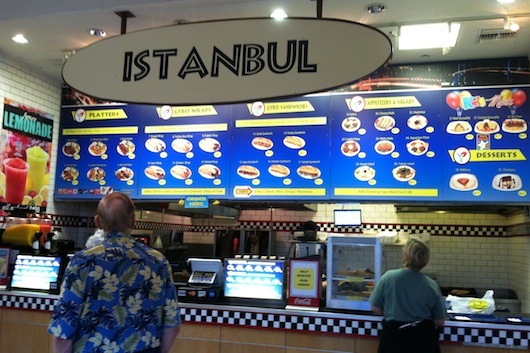 The food is Turkish and Eastern European. I always order the chicken sandwich, it's my favorite.

You can find this restaurant in the food court of Coastland Center Mall in Naples.

When you get to Coastland, just follow the signs to park at the Food Court. You'll see Calistoga outside too.
If you like Gyros, fresh Kebabs, and Halal meals this is worth a try. But you can also get regular meals with french fries that your kids will love too.

Plus salads, rolls, wraps, and falafels. You pick your sides too from veggies, rice, french fries and more.

Address
1876 Tamiami Trail North
Naples, FL 34102
Phone 239-263-1862
Website and Menu

Your thoughts on this Turkish and Eastern European restaurant
Have you been here before? Share your experience! Do you just have a question? Go ahead, ask!