Cheesecake Factory

The Cheesecake Factory in Naples Florida is located right next to the Coastland Center Mall.

If you have never been to this restaurant before, you're in for a treat. Lots of options.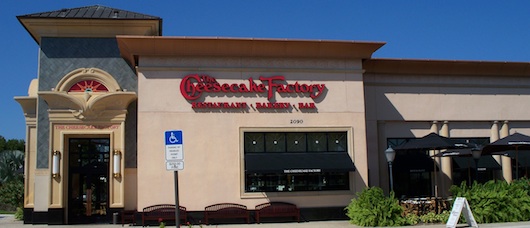 If you have been there, you know what I'm talking about - they have everything you can possibly think of on their menu! Well, almost.

It's awesome but it can also drive you crazy because there are so many really good things to pick from it's just hard to decide.

But if you find yourself complaining about that, then you know you've got it made! Haha.

A day that I go to Cheesecake is a GREAT day. My stomach gets a little angry though due to over eating of Snickers cheesecake.

What's your favorite dish here?
I'm glad you asked - that would be the Louisiana Chicken Pasta (it's a little bit spicy).
What's YOUR favorite? Let me know below - I've made it super easy for you to add your thoughts.
Address
2090 Tamiami Trail North
Naples, FL 34102
Phone 239-435-1580
For more restaurant choices in Naples Florida click here.

What do you think about the Cheesecake Factory?
Have you been here before? Share your experience!