Altin's Cafe and Grill

Altin's Cafe and Grill where you can get breakfast or lunch right on the sidewalk of Fifth Avenue South.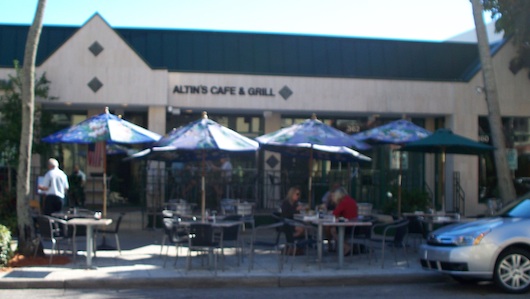 Just three or four blocks away from the Gulf beaches here in downtown / Olde Naples.

Address
368 5th Ave S
Naples, FL 34102
Phone 239-261-5866
They have soups, chicken quesadillas, wraps (Greek, turkey & bacon, grilled vegetables), salads (Mediterranean, casesar, garden), fruits, shrimp cocktail and delicious sandwiches like.
This place is right next to the Subway... Pay a little more for a sandwich here and get the good quality homemade stuff.

They have philly cheese steaks, crabcake sandwich, cajun chicken, BLTs, burgers, and more.
Tell Us About This Restaurant
Have you been here before? Share your experience!