Transportation

When I say transportation I mean ways that you can get around in Naples either walking, riding your own bicycle, motorcycle, scooter or driving a car.

Ways to get around in Naples

Whatever you want to use to get around - for the most part - a business in Naples has it for you to rent.

Car rentals, scooters and drivers

Car Rentals
See our car rentals section
Rent your own scooter
Information on where to get a scooter while you're here

The scoop on taxis, personal drivers, and limo services on its way.

Using a bicycle or walking around

Bicycle Rentals
Bike rentals in Naples Florida
Best places to ride your bike...
Olde Naples
Miles of beaches plus this is the downtown area which also has...

The Fishing Pier
Naples fishing pier provides all visitors with a fishing license. You just have to follow all of the rules. Within Olde Naples/downtown.


Crayton Cove
Right next to the City Dock within Olde Naples

Fifth Avenue
Fine dining and shops. Within Olde Naples.

Third Street
Casual and fine dining and shops within Olde Naples/downtown.

Other places to walk around in...
Mercato shops
In North Naples
The Village
The Village on the bay with shops and restaurants with beautiful views
Coastland Mall
Naples' mall is indoors so if it's a rainy day you can always head to the mall and walk around (I mainly just like the food court)

Public Transportation
Public Transporatation in Naples
Information on the bus routes throughout Naples Florida

Naples Trolley
The Trolley tours are special because they give you guided tours while driving you around the neatest parts of town.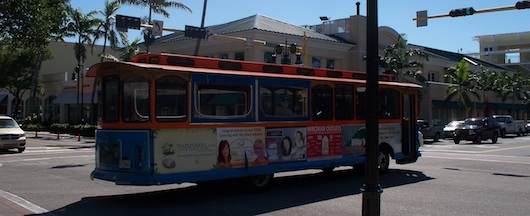 It's a fun experience and while you're getting to where you need to go you also get to learn about the area and even some of the history which you might find interesting.

Group Trips
Information on adventure trips to the Everglades and other Parks around the area for things like...
Nature walks
Seeing wildlife
Air boat tours
Your Hotel Might Have a Shuttle
Are you staying in a hotel? See if they have a shuttle - it might be included in your stay. For resorts or motels just pick and the links will open in a new window.