Bamboo Cafe

French Home Cooking
Bamboo Cafe is a locally-owned French restaurant near Crayton Cove in Old Naples.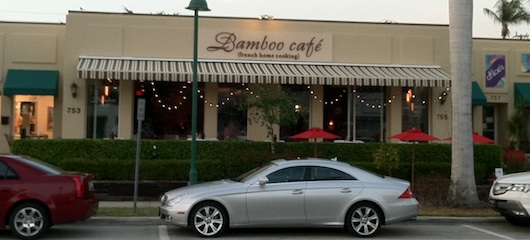 Friendly service, full bar, wine list, plenty of parking, and a covered area for outside dining. They'll even let you bring your pet if you sit outside.
Some of their signature dishes that you can try are Filet Mignon, fresh local seafoods, authentic Moroccan tagines, Boeuf Bourguignon, Coq au Vin, and Cassoulet.
The sides menu includes...
Pommes Frites: fresh hand-cut Idaho potatoes that are fried with moutarde Dijon
Ritz Rouge de Camargue: red rice from Camargue, France
Fingerling potatoes
If you want to view their complete menu, click here. (Opens in a new window)

Address
755 12th Avenue South
Naples, FL 34102
Phone 239-643-6177
Your thoughts on this French Restaurant in Naples
Have you been here before? Share your experience! Do you just have a question? Go ahead, ask!