Cooper's Farm Market

Fruits, Vegetables, Double Yolk Eggs and More
Cooper's Farm Market is right in downtown Naples so if you're anywhere in that area you'll find it easy to get to.

Most of you will notice it if you drive towards Fifth Avenue South from U.S. 41 (also known as 9th street south in this area).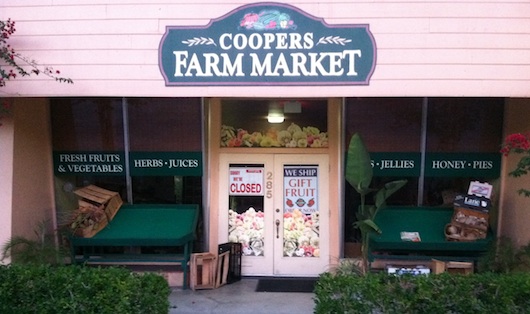 It's pretty much like a farmer's market except that it's open daily. So if you miss out on one of those weekend events you can stop by this place and enjoy as many local fruits and vegetables that you can find.

I usually get my veggies here and the double yolk eggs are pretty popular too.
If you're staying at any of the hotels in old Naples you'll most likely be able to ride your bike or even walk here.
My favorite part about it is that you are supporting locals when you shop for your groceries here. Did I mention you'll find "homemade" juices and salsas here too? It's definitely worth a look!
Address
285 9th ST S
Naples, FL 34102
Phone 239-774-0069
What do you think about this grocery store in Naples?
Have you been here before? Share your experience!