Things to do in Naples

If you're looking for things to do in Naples you have found the right place.

Since we have the beach here, there are all sorts of water activities like fishing, paddle boarding, body surfing, boating and more.

In addition you can stay on land and cruise around on a bicycle, scooter, or segway...

Then there's the dozens of golf courses to choose from, a variety of restaurants, places to shop or walk around, and lots of nature/wildlife (which I'll tell you about below).
Looking for things to do in Naples at night? I'll show you that too.

This page is here to prove to you that there's more things to do in Naples Florida than just the beach and golf. But the beach sure is nice... :)
Beach and Water Activities
Clam Pass
One of my favorite beaches because of all that it offers. There's a shuttle that takes you through the mangroves (on a boardwalk). You can also choose to walk but there are great views here. A super awesome place to kayak or canoe through the beautiful backwaters.
More Beaches
A list of the rest of our beautiful beaches in Naples.

She's kidding around! The beach makes her that way...
Sand Castles
And sculptures too (check out this huge alligator and sea turtle one)

Naples Water Shuttle
The easiest way to get on the water in Naples, $5 per person all day pass.
Sugden Park
Lakeside beach, learn to waterski, sail and more
Fleischmann Park
Skatepark, volleyball, racquetball, basketball and more

Cruise Naples
Go on a cruise through Naples Bay and the Gulf of Mexico aboard the Double Sunshine
Conservancy of Southwest Florida
Next door to the Naples Zoo you can enjoy nature trails, butterfly garden, guided kayak tours, boat tour and more.

Horse Carriage Rides
Around downtown Naples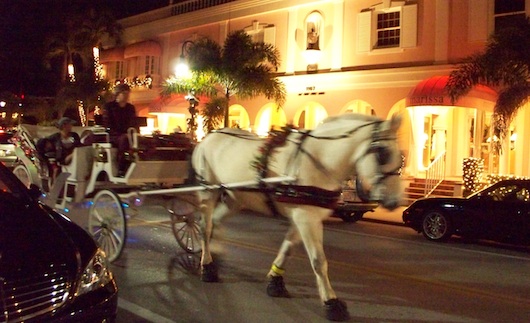 Kayaks and Canoes
Info on Naples Florida kayak and canoe adventures.
Scooter Rentals
Rent your own scooter to get around town in a simple, fun and easy way.

Segway Tours
Around downtown Naples. See the Pier, Cambier Park, Third, Fifth, and more

Bicycle Rentals
Bicycles are available for rent throughout all of Naples, but again the downtown area is most appealing for bicycling.
Naples Bay Resort Boat Rentals
This resort is nestled right on Naples Bay near downtown and all of the action in Naples. Learn about their BOATEL packages and other fun rentals.

Boat Rentals
Solve your boating adventure needs with one of these three companies. What sort of boat do you need?

Paddleboarding
Paddleboard on the gulf on your favorite beach in Naples.

Jet Ski Rentals
Jet ski rentals in the area. You can rent on the beach, or ride around solo (2 hours min), or go on a guided tour.

Jet Powered Kayaks
You can ride around Naples Bay in a jet powered kayak.
Skydive SW Florida
Nearest place to go skydiving is in Punta Gorda which is about an hour away from Naples.
You see? There are plenty of things to do in Naples.

Nature, Wildlife and Parks

Naples Pier
The fishing pier is a great place to sit, walk, or stand around to watch dolphins, pelicans, and other birds. Or you can bring your fishing pole (the city takes care of the license for you).
Watch Dolphins
I caught a video of dolphins at the pier, you can watch it here
Conservancy of Southwest Florida
Next door to the Naples Zoo you can enjoy nature trails, butterfly garden, guided kayak tours, boat tour and more.
Corkscrew Swamp Sanctuary
An 11,000 acre preserve with a 2.25 mile elevated boardwalk that takes you through a cypress forest, prairie, and more.

Blue Pelican Water Shuttle
The easiest way to get on the water (on Naples Bay)
Naples Zoo at Caribbean Gardens
Experience wildlife like tigers, lions, monkeys and more

Clam Pass
You can explore nature easily at Clam Pass. A boardwalk through the mangroves, to the beach, and a pass to explore on foot.
Palm Cottage
Take a tour of the oldest house in Naples Florida that was built in 1895 - situated just blocks from the fishing pier in downtown.
Rodgers Park
A mini park in Old Naples. No playground just nature and a couple of gazebos. Beautiful and peaceful.
Norris Center
Live entertainment and activities at this community center in old Naples
Naples Nightlife
Mercato Nightlife in Naples
Mercato is located in North Naples (right by Vanderbilt and US 41) and has a few different "hot spots".
Fifth Avenue South
Live music, outdoors, and a sea breeze.
Third Street South
More live music and dining in the downtown Naples area at night.
Norris Center
Enjoy live entertainment in this community amphitheater


The Best Shopping
Tin City
This place has a unique and funky feel to it which makes it a must go to place if you've never been. Plus it's right on Naples Bay.

Coastland Mall
This is our local mall. It's very nice but is probably like many other malls you have already been to.

Mercato
Mercato's a newer shopping center in the North Naples area which has plenty of shops, a book store, and a great movie theater. Plus night life...

The Village
The Village is a high end shopping center right on Venetian Bay with stores, a coffee shop, ice cream, and restaurants.

Thrift Shops
Are you a thrifter? Check out these places then.
Cool Restaurants
Food from India
This is one of our favorite places in town. Yummy.
Yabba Island Grill
A really fun place to eat that's right on Fifth Avenue South.
Tell us about your favorite things to do in Naples using the simple form below. It'll take you less than two minutes.
Even More Things to do in Naples

US Coast Guard Auxiliary
Visit Station 93 of the US Coast Guard in Naples Florida
Earth And Fire
A Naples Florida ceramic studio where the pottery is painted by you!
What Do You Like To Do in Naples Florida?
What is YOUR favorite thing to do while visiting Naples Florida? If you haven't been here, what *would* you do??