Naples Zoo

"Jungle Larry's"
Naples Zoo has been called "Jungle Larry's" and is also known as Caribbean Gardens.


This park has a lot for you to see and experience like:
A boat ride where you get to see monkeys
Meet the keepers with Tigers
Learn about predators
Watch the alligators get fed
Zebras
Apes
Snake show
Exotic cats
Black bears
Cougar
Lions
Wallaby
Tortoises
And there is so much more -- you won't be dissappointed you went!
There is plenty of fun for kids, a gift shop, food, and lots of learning experiences. I'll let the pictures do the rest of the talking!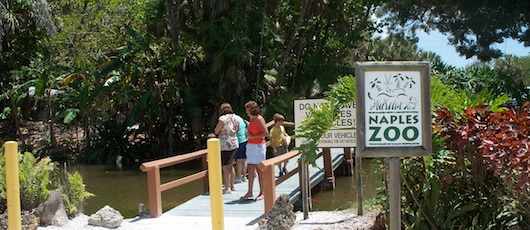 From this little bridge you can usually see fish and turtles, which I'll show you after the map of how to get there...

Address
1590 Goodlette Road North
Naples, FL 34102
Phone 239-262-5409
The following two shots were taking at the pond which is before you enter the zoo.