Kayak and Canoe Rentals in Naples

Kayak and canoe rentals are available throughout the area in Naples. Whether you want to paddle around the gulf while your family relaxes at the beach, or if your entire family is ready for a group kayak tour through our Naples Florida mangroves.

There are services that will bring a kayak to you, but you can also pick up your own, or go where they are available on site. We'll get to all that later...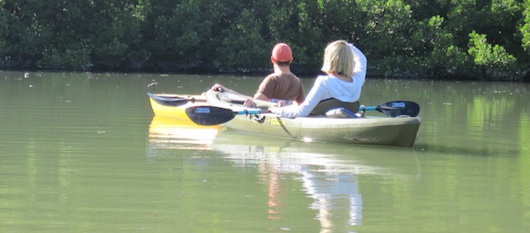 Kayaking is not difficult unless you are going against the current. In that case you'll be fine, it'll just be an extra workout.
Throughout the winter it's fun to go at any time because it's not too hot. Just be sure you have enough day light left to get back. During the summers you should try to get out there early morning to avoid the heat.
In southwest Florida there is so much to see while kayaking or canoeing our waters. You will run into several species of birds, fish, crabs, and other wildlife. On top of that you'll experience beautiful scenery that you can only enjoy in the mangroves and backwaters.
If you're just on the gulf by the beach you'll still have incredible views and a chance to see dolphins, manatees, pelicans, and fish.
What to bring
You'll want to have sunscreen, a hat that creates enough shade for you, sunglasses, water, and snacks. Wear water friendly shoes or sandles.
Places to kayak and canoe
Rookery Bay
Two hour guided kayak tours of Rookery Bay, Hall Bay, and mangrove tunnels where you'll see birds, marine mammals, and lots of nature. Located near Marco Island.
300 Tower Road
Naples FL 34113
239-417-6310 ext 401
Cocohatchee River Park - Wiggins Pass
Rentals are available at the dock through Fun Time Jet Ski Rentals.
13531 Vanderbilt Drive
Naples FL 34110
237-777-5056
Clam Pass
Rentals are not available on site. You have to bring your own kayak or canoe here. I'll show you where you can go pick up a kayak for a day to take here at the bottom of this page. This is a great place to kayak, my favorite.
410 Seagate Drive
Naples FL 34103
239-353-0404

Collier-Seminole State Park
A 13 mile canoe trail that flows down the twisty Black Water River through a mangrove forest.
20200 Tamiami Trail East
Naples FL 34114
239-394-3397
10,000 Islands
Beautiful place but don't venture here alone, you'll want to have an experienced guide with you for safety because it's easy to get lost. Contact Rich Jones at kayakfishingtheeverglades@gmail.com or call him at 239-631-9028.
The Conservancy of South West Florida
On-site rentals throughout the week as low as $15 per person.
1450 Merrihue Drive
Naples FL 34102
239-262-0304
Venetian Bay
Kayaks are readily available for rent on site by Extreme Rentals. Less nature and more housing and development. Call 239-262-6149.
Bayfront Inn
Similar to Venetian also run by Extreme Rentals beautiful scenery but it's mostly housing and development.
1221 Fifth Ave South
Naples FL 34102
239-262-6149
More Companies You Can Rent From
Fun Time Jet Ski Rentals
@ Vanderbilt Beach
9301 Gulfshore Drive
Naples FL 34108
@ Cocohatchee River Park - Wiggins Pass
13531 Vanderbilt Drive
Naples FL 34110
239-777-5056

Naples Kayak Company
11369 East Tamiami Trail
Naples FL 34113
239-262-6149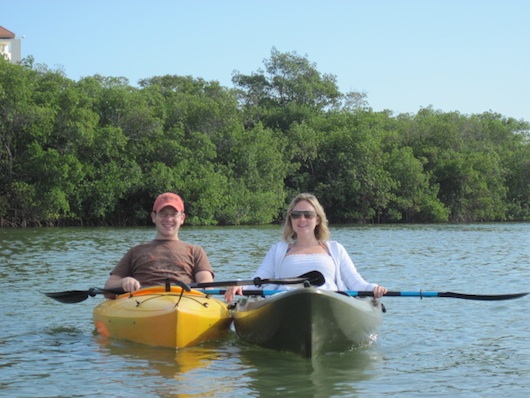 Tell Us Your Story on Kayaking in Naples!
Do you have a great story about this? Share it!