Paddleboarding in Naples

If you're looking to go paddleboarding in Naples you've reached the right spot. Stand up paddleboards are a fun way to enjoy the gulf waters AND get exercise.

You might even get to see some wildlife while you're out there, like dolphins and pelicans.

If you're not familiar with a stand up paddleboard, it's a larger, wider, and more stable "surf" board that you stand on while paddling.

At first you might find it challenging, but once you get the balancing part down it gets better. And you can always just sit or lay down on the board and enjoy the scenery, I love doing that!
There's a family owned company in downtown Naples that rents them out, they will even bring the boards to you. So you can choose your favorite beach in the Naples area.
Pricing starts at about $25 for one hour, $40 for 2, and $50 for 3, and you can also do all day for more. But trust me, it gets tiring after a while!
By the way, these prices may change but it's so you have an idea. For up to date information on pricing and availability visit the local companies' websites that are listed at the bottom of this page.

If you end up loving the sport, like many locals now have, you can buy you own board which start out at around $900.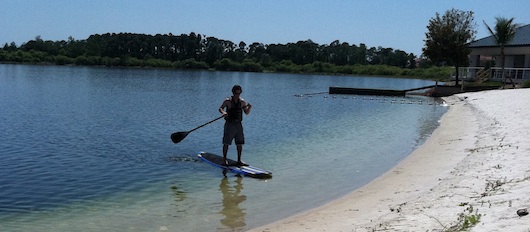 Naples Paddleboard
852 First Ave South
Naples FL 34102
Phone 239-601-2700

Olde Naples Surf Shop
1311 Third Street South
Naples FL 34102
Phone 239-262-1877