Fairfield Inn

Walk To Downtown Naples... Maybe?

Fairfield Inn & Suites is a Marriot hotel that's within walking distance of famous downtown Naples Fifth Avenue South and more.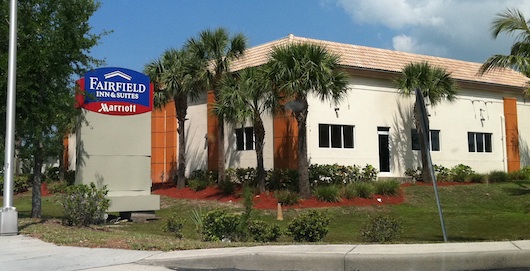 You can enjoy the pool and lounge chairs that are provided for you to soak the sun and relax.. But take a walk and you'll find so much more.
We'll talk more about the rooms too (later). For now, let's talk about your location here, where you are...

(I've set the links to open in a new window so you can continue reading)

Scooters and bicycle riding in old Naples...
The weather is almost always good for a bike ride and if you come down in the summer you can get a scooter so it's not as warm!

So here are some other nearby attractions you can explore through this web site, they're what I like to call "the best of Naples"...
The links open in a new window for you.

The rooms and amenities at Fairfield in Naples

four floors
108 rooms
13 suites
one meeting room
no pets allowed
wireless internet is available

BBQ and picnic area

on-site laundry (coin operated)

heated pool

small fitness center
"Kick Back at 5" Monday through Wednesday from 5 to 7 PM with complimentary beer, lemonade, iced tea and popcorn.

Check out things to do in Naples if you get bored!

If this accomodation is not for you, no problem - just go to our Resorts $$$, Hotels $$ and Motels $ sections to find your perfect match.

Address
1785 Fifth Avenue South
Naples, FL 34102
Phone 239-261-3500
What Do You Think About This Hotel near downtown Naples?
Have you stayed here before? Share your experience! Do you just have a question? Ask away!