Nora Butler Designs
Art, Gifts and Apparel
You find Nora Butler Designs nestled right in Crayton Cove where you are just steps away from Naples Bay and the City Dock.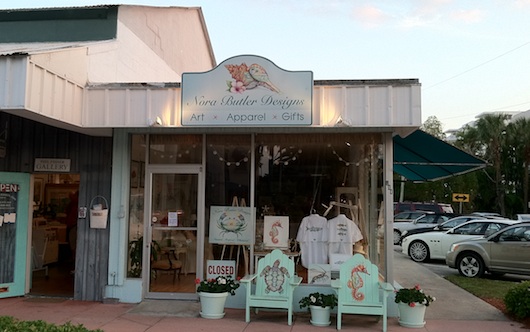 You might find this wonderful little art gallery after a meal at The Dock or at one of its neighboring places of business and pleasure. :)
Nora is an artist who spent her childhood on a barrier island off the coast of southwest Florida so her art is inspired by a life of sandbars, shelling, snorkeling, and imagining.
Your kids will love her work, and so will you because she takes you into another world with her art by creating pictures within pictures. Or worlds within sea life?

The best part is that you'll find something even at a low price point whether it is a notecard, t-shirt, or small limited edition print.
Address
800 12th Avenue South
Naples, FL 34102
Phone 239-572-4701 or 597-9776

Nora's website, to see more of her work: norabutler.com