The Lady from Haiti

The Lady from Haiti is a unique gift shop / art gallery in downtown Naples Florida. Actually, it's right off of 5th Ave S - one of our area's most famous entertainment, shopping, and dining attractions.

The store is tiny and super cute with the perfect collection of beautiful Haitian paintings and other art pieces that you cannot find anywhere else.
From one of a kind postcards to papier mache purple elephants that can hang on your walls. It's like a Caribbean art gallery right here in Naples. You'll also find:
Painted steel drum art
Gecko watches
Bone bracelets
Turtle toe rings
Beach life earrings
Slinky beaded cell phone bags
You will also love the hard to find jewelry, belts, and shoulder sling bags in the little store off of Fifth Avenue South.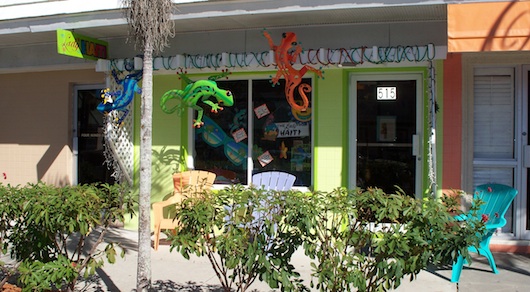 Location
The corner of Fifth Ave South and Park Street in the back room of Four Winds Gallery. Enter the store at 515 Park St or 658 Fifth Ave S. Call 239-649-8607 or email info@ladyfromhaiti.com.
Who is she?
It started out in the 1980's when the owner had a six year stay in Haiti to teach 2nd grade there. There she was united with a beautiful Haitian baby girl whose natural mother was not able to care for her.
She came back to the United States, with her daughter Rachel, to begin their lives together. They have since been operating the colorful, fun, and funky art gallery that you're reading about right now. :-)